Tips & Techniques for Outdoor Winter Planters
Tips & Techniques for Outdoor Winter Planters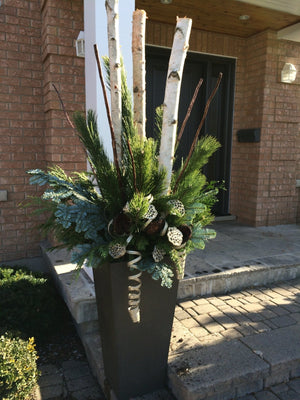 Planters situated in your front yard create focal point(s) in your landscape, and can be creatively changed changed seasonally. Containers made of stainless steel, fiber stone, fiberglass and galvanized metal are reliably safe for year round use in our climate. It is not necessary to change the soil in your container unless you had thick woody stemmed annuals or big clumps of grass. The "rooty" medium is great for keeping winter greenery in position until things freeze up for winter. Don't wait until you are out there with a kettle thawing out your container. Mid-November is not too early to put winter greens into your containers. If you have southern exposure- the strong sun will turn BC cedar brown quite quickly, so use that sparingly to have a greener arrangement all winter.
At this point you should decide whether you want a winter composition, something sparkly for the Holidays, or both. If you want both, no problem!! Position festive accessories on branches or greenery with wire, when the holidays are over, simply snip them off. To establish the line of your design, there is a variety of products to let your creativity flourish. Metal topiaries , obelisks, and spheres can be wrapped with faux or fresh garland and mini lights. Bamboo painted in assorted colours, birch poles or other woody stems are most frequently used for the line of the design.
Winter Planters Colour
Colour is one of the strongest elements of design and very personal in nature. You can decide whether you want vibrant accents or subtle, there is no right or wrong- so enjoy your choices. If you don't like them- do something different the next time. With the multitude of accents available, shimmers and sparkles catch and reflect the light, so effective in winter with the short day length. No worries of mixing metallic with colour. Here are some combo's I have done in the past. Chartreuse with either gold, platinum, silver or copper. Reds/burgundies with silver, bronze, platinum, copper or gold. Blue/turquoise with white, silver, black, bronze or platinum. If your container is fully exposed you may not want to use a lot of white, because Mother Nature will be supplying that in the form of snow. However in protected areas or interior designs- white can certainly be appreciated. It looks lovely with silver, platinum or gold. Vibrant hues are more effective in the drab, colourless winterscape, something to keep in mind in November when you are doing your arrangement and snow may not yet be on the ground.
During the growing season, foliage plays a role equally important to that of flowers. For the winter think of the baubles & sparkly sprays as flowers and your winter greenery, the plants. Winter foliage comes in an assortment of textures and colours. Southern magnolia has a chocolate/rust suede texture and glossy green on the reverse. It works nicely to enhance focal areas in your arrangement and clusters of berries or baubles can be wired to the stems to really bring it to life. Blue spruce, blue atlas cedar and silver fir used in reverse provide lighter glaucous foliage that contrast well with darker accessories and other greenery. If you are working with a more natural design, the various textures will be your canvas, berries, cones and vertical elements your accessories. Remember, that come spring, you can change it up- so have some fun with your creativity, maybe a glass of wine will get those juices going!