Turkish Towels -Indoors & Out !
Turkish Towels -Indoors & Out !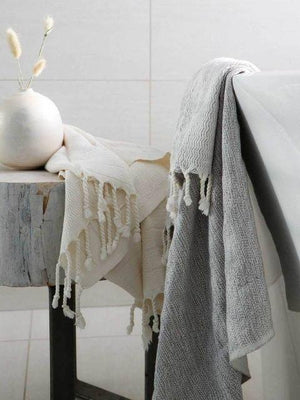 Also known as a Peshtemal, these high-quality textiles offer over 10 uses - towel, scarf, shawl, for yoga or workouts, for your table, as a swaddle, for fun in the sun, and more.
Their versatility reflects our sustainable design principles, made with natural threads made to last. Here you'll find lightweight, midweight, bamboo or linen blends in our unique collection - be sure to click on the product descriptions to learn more about why the Poko towel is a mainstay.
1) As a Towel: Larger than a typical bath towel, Poko Turkish towels are generously sized to fully wrap around your body. They're the perfect fit for right after the shower, or hopping out of the pool.
2)Beach/Picnic Blanket: Easily used both indoors and outdoors, Turkish cotton repels grass and sand. This "wicking away" feature makes Turkish towels the perfect portable picnic blanket and accessory for a day at the beach, or an afternoon in the park.
3)As a Scarf/Pashmina: Ditch those scratchy woollen fabrics, and create a vibe that is elegant, contemporary, luxe and coastal! Wear your towel as a scarf and dress up even the simplest of outfits.
4) As a Throw: The soft and luxurious feel of our Turkish towels makes for a perfect throw at the end of your bed, or across the back of your couch. Browse our collection to find the aesthetic that's right for you and add a touch of design to your space!